Mark Your Calendars
The Family Gathered in Honor of the 25th Anniversary of the Smith Family Cemetery Dedication
---
Mark Your Calendars
Joseph Smith Sr. and Lucy Mack Smith Family Reunion
August 2-5, 2018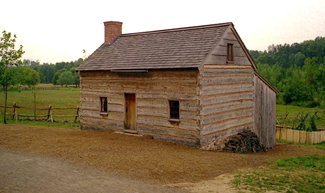 The second home the Smith family lived in after moving to Palmyra.
The reconstruction is located on the site of the original.
The eight witnesses saw the golden plates in a grove near the log home.
Joseph's first visit from Angel Moroni was here.
Joseph lived here at the time of the First Vision.
Two hundred years ago, the Smith Family had been driven from their home and had to relocate and rebuild in a new place. More than anyone, the Smiths knew what it meant to be homeless and refugees. We are helping build bunk beds for those down on their luck and refugees so they can sleep with more comfort, in memory of Joseph Sr. and Lucy pulling and building together in 1818.
What would you have given for our Father and Mother Smith to be able to sleep with a roof over their heads?
Today, 200 years later, we have an opportunity to help others with similar difficulty and have Joseph's family and name known for good. In 2018, in conjunction with Sleep in Heavenly Peace, the Joseph Smith Sr. and Lucy Mack Smith Family Association is honoring their sacrifice and endurance, by building beds for refugee families in the Salt Lake City, Utah area.
At this 200th Anniversary gathering, we will be donating and building bunk beds for refugee children.
Won't you join us for this seminal event? With your family's donation for a bunk bed, we can make a difference for hundreds of children, and just as our past gatherings, your good works and Joseph's name will be broadcast to thousands.
You can learn more about Sleep in Heavenly Peace by watching these links:
Provo group donating beds to help others KSLcom
Watch for additional Family Association and Reunion details that will be coming soon.
Click to donate toward our service project.
---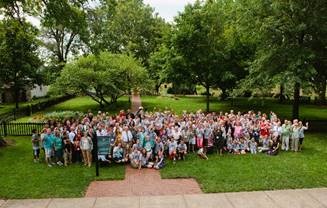 The Family Gathered in Honor of the 25th Anniversary of the Smith Family Cemetery Dedication
August 6, 2016
You can read more about the 2016 Nauvoo Reunion activities by going to http://josephsmithsr.org/2017/02/12/2016-nauvoo-memories/
During the program held at the cemetery, Elder Ballard said, "There is no one who has ever lived in my judgement, with the exception of the Savior, who is more entitled to rise up on the day of resurrection in a glorious and beautiful garden. I have always felt deeply that Joseph, Hyrum, Emma, and Father and Mother Smith, Samuel, Don Carlos and other family members will rejoice together on the day of resurrection. They all played important roles at an important time in our history." Elder Ballard's full address.
Lachlan Mackay is a member of Community of Christ Council of Twelve and a Trustee of the Joseph Smith Sr. and Lucy Mack Smith Family Foundation. He shared some stories about Lewis C. Bidamon and how Emma met him during the time Lewis was fighting to protect the remaining Latter Day Saints in Nauvoo.
Lach said, "Here is what I appreciate most about Lewis. He was father and parent to the children of the prophet. For David he was the only father he ever knew. Of course, Emma was pregnant when Joseph was killed and David was born 5 ½ months after his father's death. For raising those children, I will be eternally grateful." Read more about finally marking Lewis' grave.
---
Steve & Frances Orton
Steve: steve.ortonio@gmail.com
Frances: ortonfrances@gmail.com
Checks made out to: Joseph Smith Sr. and Lucy Mack Smith Family Organization
c/o Steve and Frances Orton
381 West 3700 North
Provo UT 84604
Website: http://josephsmithsr.org/reunion/