http://www.deseretnews.com/article/865659936/Elder-M-Russell-Ballard-lays-wreath-in-Nauvoo-cemetery.html?pg=all
By Gerry Avant
NAUVOO, ILL.
Two apostles — Elder M. Russell Ballard of The Church of Jesus Christ of Latter-day Saints and Elder Lachlan Mackay of the Community of Christ (both descendants of Joseph Smith Sr. and Lucy Mack Smith) — met with more than 400 cousins in Nauvoo, Illinois, on Aug. 6 to commemorate the 25th anniversary of the Smith families coming together to beautify, enlarge, landscape and increase access to the Smith Family Cemetery.
Elder Mackay, a great-great-great-grandson of the Prophet Joseph Smith, and Elder Ballard, a great-great-grandson of the Prophet's brother Hyrum, laid wreaths on the graves of Joseph Smith Sr., Lucy Mack Smith, Joseph Smith, Emma Hale Smith and Hyrum Smith. They were assisted by Anina Luff, Elder Mackay's mother; and Katie Clayton, one of Elder Ballard's granddaughters. Elder Ballard said that two of Joseph's other brothers, Don Carlos Smith and Samuel Smith, are buried in the cemetery but the exact location of their graves isn't known.
During the ceremony, the family also placed a marker to honor Lewis C. Bidamon, Emma's second husband and the last to be buried in the cemetery. Elder Mackay spoke of Bidamon's welcoming generosity, his humor and his caring of Emma's sons. "For raising [Joseph Smith Jr.'s] children I will be eternally grateful. I am just thrilled we are finally able to mark Lewis' grave," Elder Mackay said.
read more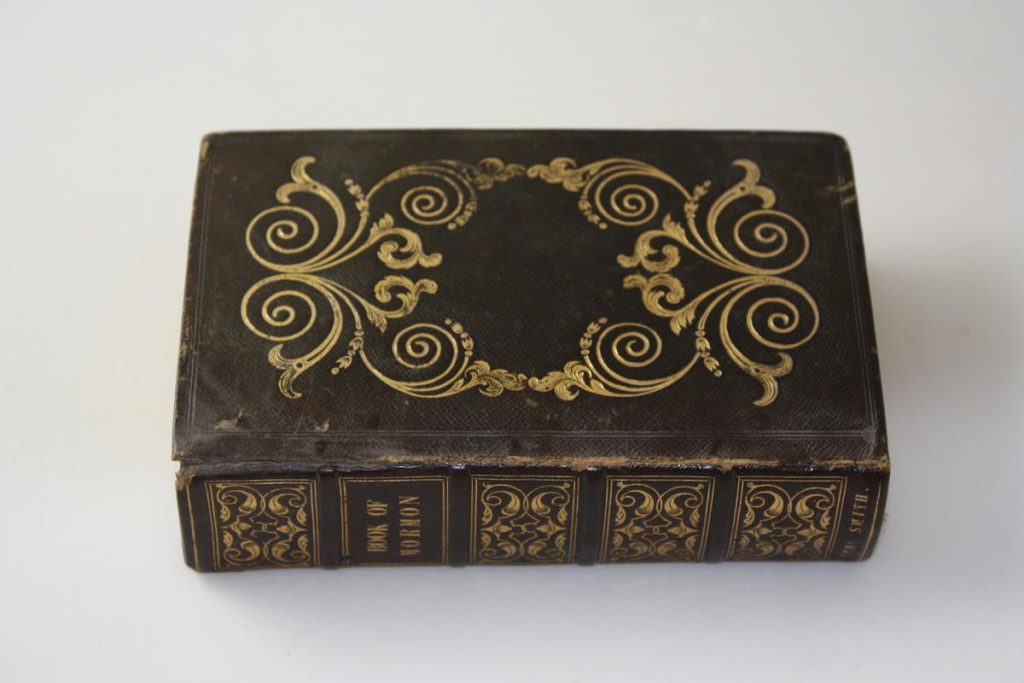 http://www.deseretnews.com/article/865639100/Emma-Smith7s-copy-of-the-1841-Book-of-Mormon-found.html
Lynn and Tanya Bascom, an LDS couple from Bountiful, Utah, went on vacation this past June, touring some of the nation's historical sites in the Boston, Massachusetts, area. At the home of John Quincy Adams, they found an 1841 copy of the Book of Mormon that originally belonged to someone very special in Church history — Emma Smith, wife of the Prophet Joseph Smith.
"We went back East for a wedding in Nantucket," said Lynn Bascom. "My wife was born in Cape Cod, and we love to visit the New England area." While they were there, Brother and Sister Bascom decided to visit some historical sites associated with the family of John Adams in Quincy, Massachusetts.
The final stop on the Adams historical sites tour is the Old House at Peacefield, the home of John Quincy Adams. "In his will, John Quincy Adams requested that his library of books be preserved in a fireproof structure," said Brother Bascom. "The library is actually a quaint little cottage that is a separate stone building [housing] more than 14,000 volumes. They put in sky lights so you can see the vast array of books there."
The National Park Service oversees the tour of the Adams' historic homes and a park ranger led the tour that the Bascoms attended. "The guide doing the tour asked us where we were from, and we told him we were from Utah," said Tanya Bascom. "He asked us if we would be interested in seeing a copy of the early edition of the Book of Mormon and directed us to a table in the library that contained several books. About six feet away from us was an 1841 copy of the Book of Mormon given to Charles Francis Adams by the Prophet Joseph Smith."
"My wife asked if we could touch the Book of Mormon but we were told 'no,'" said Brother Bascom. "There was also no photography allowed in the home. It was nice the guide threw it out there that the book existed. There was a large table of books that were out for display, and we could see it just a few feet away. We had taken this tour before and never noticed the Book of Mormon."
The story might have ended there without the help of Utah historian Ron Fox, a member of the Salt Lake 14th Ward. The Bascoms shared their experience with him when they returned home from their vacation and then he went to work trying to find out more. Working with the National Park Service, he obtained photos of the Book of Mormon. The results were astonishing.
The photos showed the spine of the book, indicating that it had been Emma Smith's personal copy. "A few of the copies of the 1841 Book of Mormon, the first to be published in England, were engraved with the names of early Church leaders," said Brother Fox. "Joseph, Emma and Hyrum all had their own copies, as well as the members of the Quorum of the Twelve and their wives. No one knew where Emma's copy was until now. Now I wonder where Joseph Smith's copy is. Somebody might have an 1841 copy of the Book of Mormon with the name Joseph Smith engraved on it and not realize it was his personal copy."
The photos also revealed that Joseph Smith had personally signed the book and Adams had documented the receipt on the same page underneath Joseph Smith's name. Adams wrote in the Book of Mormon he received, "The above is the autograph of the chief of the Mormons who gave me this book at Nauvoo on the 15th of May 1844." It was signed C. F. Adams.
"Joseph Smith did not sign more than a handful of copies of the Book of Mormon," said Brother Fox. "This signature and the fact that it was Emma's copy means the book would be worth a great deal if it were on the public market, probably in excess of a million dollars or more."
To understand the significance of this discovery, it is important to substantiate the historical accuracy with the journal accounts of the two men who visited Nauvoo in May of 1844. Charles Francis Adams Sr. was the son of President John Quincy Adams and grandson of President John Adams. He was serving in the Massachusetts State Senate at the time of his visit and would later become a member of the U.S. House of Representatives. His traveling companion was Josiah Quincy Jr. He was serving as a member of the Boston city council at the time of his visit and was elected the mayor of Boston the following year in 1845. They decided to make a stop in Nauvoo. Both of them recorded separate experiences in their journals.
From the journal of Charles Francis Adams, May 14, 1844: "As we went on it became very necessary that we should settle upon our course. Quincy [Josiah Quincy Jr., Adams' traveling companion] wished to stop at Nauvoo, the city of the Mormons and see something of Joe Smith, the prophet."
Traveling on the Steamer boat Amaranth, the two stopped in Nauvoo. "At the door of a two-story wooden house with a sign post before it, we stopped and were introduced to the celebrated Joe Smith," writes Adams. "A middle-aged man with a shrewd but rather ordinary expression of countenance, unshaved and in clothes neither very choice nor neat. The whole air of the man was that of frank but not coarse vulgarity. He received us civilly and forthwith introduced us into his house." (In the early 19th century, "vulgar" meant "common, but not necessarily disgusting" [A Guide to Eighteenth-Century English Vocabulary, Jack Lynch, 14 April 2006, p. 21])
While in Nauvoo, the prophet Joseph Smith entertained, housed and fed them. They visited the construction site of the Nauvoo Temple, discussed religion and politics and Adams and Quincy both saw the Egyptian mummies and manuscript Joseph had procured. Adams writes, "He then took us down into his mother's chamber and showed us four Egyptian mummies stripped and then undertook to explain the contents of a chart or manuscript which he said had been taken from the bosom of one of them."
"I think it important to note that Joseph was happy to meet with these men," said Brother Fox. "They were important in their time, a son of the president of Harvard and son and grandson of the president [of the United States], and at the time President John Quincy Adams was still alive. These were both elected officials and I believe Joseph was looking to build the creditability of the Church in the East and to get help for the Church from the attacks of its enemies."
The possibility that two copies of the Book of Mormon were given out, one to each visitor, is hinted at in the book Figures of the Past From the Leaves of Old Journals by Josiah Quincy Jr. He writes, "I have before me some relics of my visit to Nauvoo. Here is the Book of Mormon, bearing the autograph which its alleged discoverer and translator wrote, at my request."
Quincy also shared his impressions about his visit with the Prophet Joseph Smith. "He had already traversed the roughest part of the way to that coveted position," he wrote. "Born in the lowest ranks of poverty, without book-learning and with the homeliest of all human names, he had made himself at the age of thirty-nine a power upon earth. Of the multitudinous family of Smith, from Adam down (Adam of the "Wealth of Nations," I mean), none had so won human hearts and shaped human lives as this Joseph. His influence, whether for good or for evil, is potent today, and the end is not yet."
"It's thrilling that there is a copy of the Book of Mormon out there with such a wonderful background," said Brother Bascom. "It's fascinating to think that it is part of the Quincy Library and interesting how it fits his diary. Establishing these historical moments with historical artifacts dispels a lot of the misconceptions out there that Joseph Smith was not real or Mormonism is fiction."
Sister Bascom said, "From the whole experience I was left with this thought: John Adams and his family were part of bringing new freedoms to the people of the United States. Through freedom of religion, the Book of Mormon and the gospel of Jesus Christ were allowed to flourish. This is a token of what Adams fought for and therefore he passed the blessing of the restoration of the gospel on to us. Not a lot of people know how much they have been blessed by his efforts. This is one of the hidden gems about this historical tour."
read more
http://josephsmithsr.org/wp-content/uploads/2015/09/9_27_15_EmailNews.pdf
The First Smith Family Podcast Is Here
A great time to sit and watch the Smith Family Podcast would be during family night or General Conference weekend.
Elder M. Russell Ballard and Wallace B. Smith, Co-Chairs of the Joseph Smith Sr. and Lucy Mack Smith Family Association desire that the younger generation know the faith-promoting stories of their ancestors.
The Joseph Smith Sr. and Lucy Mack Family Association presents this podcast to the family and ask you to watch this short ten-minute video during a family night to help build faith in the work of our ancestors and recognize the sacrifices and commitment that fill our heritage.
Share the podcasts with your friends. Use social media to promote these wonderful stories. Our family and friends need to see these messages of faith and determination.
---
Joseph Smith Miracle Scholarship
Since the last email newsletter, the Smith family's efforts have been featured on the Church News and Events page of LDS.org.
Please encourage your friends and neighbors to view this article and others described below. It is our hope that this can be a perpetual scholarship. You can donate here:
Our roots come from New England and what a wonderful way to promote Joseph's name for good in New England.
To read more about this see the, Deseret News article written by Smith descendant, Julie Maddox.
Check out the Valley News report, Gift Honors Surgery That Saved Religious Leader's Leg. The Geisel News Center issued a press release that explained, "Descendants of Joseph Smith, founder of the Mormon Church, have created a scholarship at the Geisel School of Medicine to honor and give thanks for a pioneering surgery that Dartmouth's Dr. Nathan Smith performed on young Joseph." To read the full press release.
---
Joseph Smith Sr. and Lucy Mack Smith Family
c/o Steve and Frances Orton
381 W 3700 N, Provo UT 84604
Phone: (801) 226?6054 Fax: (801) 452?6567
Email: ortonfrances@gmail.com
Website: http://josephsmithsr.org/
read more
http://www.deseretnews.com/article/865629099/The-plates-of-the-Book-of-Mormon-As-material-as-anything-can-be.html
By Daniel Peterson , For the Deseret News
Published: Saturday, May 23 2015 2:27 p.m. MDT
I continually encounter the confident declaration that the witnesses to the Book of Mormon didn't really see or touch anything at all and didn't actually claim to have seen or touched anything. They only "saw" the plates with their "spiritual eyes," I'm assured, and "spiritual eyes," to them, meant "in their imaginations."
I responded to this assertion in a column published five years ago (see "Book of Mormon witness testimonies" published May 25, 2010). However, since the claim continues to be made, and given the fundamental importance of this issue, I address it yet again, in somewhat different fashion.
I'll leave aside the question of whether it's even remotely plausible that the witnesses sacrificed so very much for something they recognized as merely imaginary. Let's look at their explicit verbal testimonies. Several of the 11 official witnesses were obviously confronted during their lifetimes with accusations that they had merely hallucinated, and they repeatedly rejected such proposed explanations.
In fact, David Whitmer, one of the initial Three Witnesses, could easily have been addressing today's skeptics when he declared "I was not under any hallucination, nor was I deceived! I saw with these eyes and I heard with these ears! I know whereof I speak!"
It's difficult to imagine how he could have been any clearer.
In this column, though, I'll focus on the experience of the Eight Witnesses, which seems to have included no explicitly supernatural elements but, rather, to have been a wholly matter-of-fact event.
In late 1839, Hyrum Smith wrote an account for the Times and Seasons newspaper covering, among other things, his four months of hungry and cold imprisonment in Missouri's Liberty Jail, under recurring threats of execution, while his family and fellow members of The Church of Jesus Christ of Latter-day Saints were being driven from their homes during the wintertime:
"I thank God," he told the Saints, "that I felt a determination to die, rather than deny the things which my eyes had seen, which my hands had handled, and which I had borne testimony to. … I can assure my beloved brethren that I was enabled to bear as strong a testimony, when nothing but death presented itself, as ever I did in my life."
One might dismiss this declaration of willingness to die for his testimony as an empty boast, mere retrospective bravado, were it not for the fact that, less than five years later in Illinois, fully understanding the risk, he did in fact go voluntarily to Carthage Jail. There, with his prophet-brother, he died as a martyr — which, in ancient Greek, means "witness" — in a hail of bullets.
The accounts left behind by the Eight Witnesses are replete not only with claims to have "seen and hefted" the plates, to have turned their individual leaves and examined their engravings, but also with estimates of their weight, descriptions of their physical form and the rings that bound them, and reports of their approximate dimensions as well.
Wilhelm Poulson's 1878 interview with John Whitmer provides an excellent summary:
"I — Did you handle the plates with your hands? He — I did so!

"I — Then they were a material substance? He — Yes, as material as anything can be.

"I — They were heavy to lift? He — Yes, and you know gold is a heavy metal, they were very heavy.

"I — How big were the leaves? He — So far as I can recollect, 8 by 6 or 7 inches.

"I — Were the leaves thick? He — Yes, just so thick, that characters could be engraven on both sides.

"I — How were the leaves joined together? He — In three rings, each one in the shape of a D with the straight line towards the centre. …

"I — Did you see them covered with a cloth? He — No. He handed them uncovered into our hands, and we turned the leaves sufficient to satisfy us."
William Smith, who knew the Eight Witnesses well — his father and two of his brothers were among them — explained "they not only saw with their eyes but handled with their hands the said record." Daniel Tyler heard Samuel Smith testify that "He knew his brother Joseph had the plates, for the prophet had shown them to him, and he had handled them and seen the engravings thereon."
Those who seek to dismiss the testimony of the Eight Witnesses must, on the whole, flatly brush aside what they actually, and very forcefully, said.
For further evidence and analysis on this topic, see Richard Lloyd Anderson's 2005 article "Attempts to Redefine the Experience of the Eight Witnesses" online at publications.maxwellinstitute.byu.edu.
---
Daniel Peterson teaches Arabic studies, founded BYU's Middle Eastern Texts Initiative, directs MormonScholarsTestify.org, chairs mormoninterpreter.com, blogs daily at patheos.com/blogs/danpeterson, and speaks only for himself.
read more
http://www.deseretnews.com/article/865584098/LDS-apostle-Elder-M-Russell-Ballard-addresses-historic-gathering-of-Smith-descendants.html?pg=all
Descendants of Joseph Smith Sr. and Lucy Mack Smith met in greater force than ever before to both renew family ties and remember history at a reunion in Salt Lake City Aug. 1-4.
Roughly 1,100 Smith descendants from Hyrum, Joseph Jr. and Samuel Smith's lines came to This Is The Place Heritage Park for the reunion.
"We need to work together as a family to gather our family," said Michael Kennedy, a Joseph Smith Jr. descendant who has dedicated his life to finding his fellow Joseph Smith Jr. descendants, who are scattered worldwide.
About 200 of the Smith descendants came just to participate in "Joseph's Miracle Run," a 5K race on Aug. 3 that celebrated the 1813 experimental surgery that saved young Joseph's leg.
This topic was further explored later that day by Roy Wirthlin, who presented some of his newly discovered research on the work of the doctor who performed the surgery, Nathan Smith.
The honored guest at the reunion was David Longcope, who is a seventh generation doctor in an unbroken line from Joseph Smith's surgeon. He and his family participated in the race and especially enjoyed Wirthlin's lecture. They were presented with the family history work of Nathan Smith as a gift from the family.
While the adults learned more about the courage and love of the Smith family from Wirthlin, their children were experiencing "Zion's Camp." The children made swords, learned a pioneer song and tried walking on wooden crutches like Joseph Smith would have needed after his surgery.
Don Lee, a descendant of Hyrum Smith, was the proud maker of the crutches. His wife, Gwen Lee explained, "It just seems like if children have a very firm foundation and know that in their blood they carry this faith in God they can have the courage to go forth and be modern pioneers."
Meanwhile, the teenagers made a small wreath with 11 red roses, one for each of Joseph Smith Sr. and Lucy Mack Smith's children
The wreath adorned the pulpit where, that evening, Elder M. Russell Ballard of the Quorum of the Twelve spoke to the gathered family. Elder Ballard is a Hyrum descendant, and when he thanked the reunion's organizers for their hard work, he remarked, "[Organizing] the Smiths is kind of like herding cats sometimes."
He shared his testimony with the family and told them that they could best honor the legacy of the remarkable Smith family by being good missionaries.
"We owe our forefathers our loyalty and our willingness to do whatever is necessary in the building up of the kingdom of God," he said.
The Smith descendants were recognized on the morning of Aug. 4 at the live broadcast of "Music and the Spoken Word" at the Conference Center.
Other music over the weekend included a concert on the evening of Aug. 2, where Nathan Osmond, among others, performed. The emcee for the evening was Rick Macy, who has portrayed Joseph Smith Sr. in several films.
Referring to the blend of faith-based history and family time that characterized the reunion, Nathan Adams, a reunion organizer, said, "Only in the Smith family do you get to do things like this."
Lucy Schouten is an Arizona native studying journalism and Middle Eastern studies at Brigham Young University. Contact her at lucy@deseretnews.com.
read more
http://www.deseretnews.com/article/865584072/Race-marks-bicentennial-of-surgery-that-saved-Joseph-Smiths-leg.html?pg=all
The "Joseph's Miracle Run" 5K race, sponsored by the Smith Foundation, celebrated the 200th anniversary of the surgery to save Joseph Smith's leg on Aug. 3, 1813
The race was held at This Is The Place Heritage Park as part of the Joseph Smith Sr. and Lucy Mack Smith reunion held Aug. 1-4. Of the roughly 500 participants in the 5K race and the children's race immediately afterward, 300 were Smith descendants.
Francis Orton, a foundation member and race organizer, said the race was planned a year and a half in advance. When they realized that 2013 would be the 200th anniversary of Joseph Smith's boyhood surgery by renowned Dr. Nathan Smith, they saw an opportunity to "publish Joseph's name for good," she said.
The race proceeds and donations will go toward a $10,000 scholarship at Dartmouth Medical School, which was founded by Dr. Nathan Smith. The hope is for the race to be an annual event to create a perpetual scholarship.
"We'd like to make it an annual event for at least the next few years," said Daniel Adams, a Hyrum Smith descendant and member of the foundation who helped organize the race. "It took [Joseph's leg] three years to heal so he could walk well again."
Adams views the surgery itself as miraculous because it was a cutting-edge operation that would not become an accepted medical practice until after World War One. The trial also developed the love and courage of the Smith family.
"Hyrum would squeeze his leg and massage it for hours every day just so that he could handle the pain," Adams said, describing Joseph's lengthy recovery process. "This is why Joseph and Hyrum are so close, and so Hyrum will never leave Joseph, even in Carthage Jail."
One Hyrum descendant felt a special connection to the events. Ruth White's son, Nathaniel, was born at the medical school at Yale, which Nathan Smith co-founded. Her son was born with many birth defects and now uses a wheelchair.
"As soon as I heard about [the race] I felt the connection right off," she said.
White got an especially loud cheer as she crossed the 5K finish line, pushing her 10-year-old in a jogging stroller.
"He was the only one who volunteered to train with me," White said with a laugh. "Having him with me just made it more meaningful.
Also helping at the race were 35 missionaries who arrived at 5 a.m. Saturday morning to set up and then guide the runners. Two senior missionaries were stationed at the finish line, and Elder M. Russell Ballard of the Quorum of the Twelve awarded each finisher a medal after the race.
Emily Birningham, 83, and Marilyn Critchlow, both Smith descendants, walked the end of the race course to make sure all the grandkids finished the race successfully. Critchlow travelled from Romania for the event, and she spoke enthusiastically about the good turn-out and the excitement of getting the family together.
"This is such a great activity," Critchlow said. "It was worth it [to travel from Romania] just to hear the opening prayer at a race and the bagpipes."
"And to have my 25 children and grandchildren in the race," added Birningham as they neared the finish line.
Lucy Schouten is an Arizona native studying journalism and Middle Eastern studies at Brigham Young University. Contact her at lucy@deseretnews.com.
read more
http://www.deseretnews.com/article/706866/David-Hyrum-Smith–He-was-the-sweet-singer-of-Israel.html?pg=all
By Dennis Lythgoe Deseret News staff writer
Valeen Tippetts Avery's fascination with the last son of Mormon prophet Joseph Smith came while she was working on a biography of the prophet's wife, Emma.David Hyrum Smith was born in 1844 after the death of his father, and Avery became so interested in him that he became the subject of her Ph.D dissertation.
The title was changed from "Insanity and the Sweet Singer" to "From Mission to Madness: Last Son of the Mormon Prophet," and her dissertation in history at Northern Arizona University became a prize-winning book. (Winner of the locally prestigious Evans Biography award, given by Utah State University, and the Mormon History Association's award for best biography; it has also been nominated for several other awards, including the nationally prestigious Bancroft Prize in History.)According to Avery, David Smith was "the sweet singer of Israel to congregations in the Midwest, because his preaching resembled that of Old Testament prophets — but he could also sing."
Speaking by telephone from her home in Flagstaff, Ariz., where she teaches history at NAU, Avery said Smith's life was one of both success and tragedy. Although a brilliant and charismatic poet, painter, philosopher, naturalist and highly effective missionary for the Reorganized Church of Jesus Christ of Latter Day Saints in IIlinois, Smith was stricken with mental illness while still in his 30s. He was committed to the Northern Illinois Hospital and Asylum for the Insane, where he remained until his death in 1904.
While his older brother, Joseph Smith III, was serving as president of the RLDS Church, David Smith felt that going on a mission to Utah, to try to convert the "Brighamites," was his most important duty, and he did so several times. In spite of the conflict that existed between the LDS and the RLDS Churches, Smith managed to make friends with many Utah Mormons. And even though he and Brigham Young exchanged harsh words, there is evidence that they felt a natural affinity for one another. There was no one Young respected more than Smith's father, and he wanted Smith in the Utah Church. Meanwhile, Smith felt moved to teach Young the error of his ways.
Implicit in this story is the connection between the LDS and RLDS churches, which also intrigued the author. "I didn't understand the relationship between the two churches, most of all the sons of Joseph and Emma, and Brigham Young, and the church in the West, " she said. Avery, who is LDS, could see this was a story about which church would be most successful in establishing Mormonism as an American religious tradition.
"Who would control Mormonism in the American experience? Would it be the more moderate RLDS version that conformed more to Protestant viewpoints and refused to accept polygamy or the doctrine of the gathering? I would have bet that Joseph III, with his more moderate Mormonism, would have appealed to a larger number of people. But I would have been wrong.The Western LDS Church was more stringent, more radically different than standard Christian theology, yet it succeeded in identifying itself more as an American religion."
Avery did not set out to write a history of the two churches, although she believes that needs to be done. But she admits that "If there's another book in me, the thing that excites me the most is a book about Mormons vs. Mormons over who would determine the shape of Mormonism in American culture."
Avery plans to let a year pass before plunging into another project, however. She also knows she has emerged as a biographer and is not sure if she "can tell the story of a movement and a competitive religious agenda with the same success as that of a human life."
But "From Mission to Madness" is also more than a biography. Avery puts this Mormon story into the larger context of "a 19th Century American family defining who they were, how they made a living and how they would deal with an extraordinary son and brother who becomes mentally ill. Its value to the 20th Century is not only telling that story but suggesting that families are not perfect. There are struggles to find answers to the problems of individual family members. It's a story that reaches out to all of us. It was a joy and an agony to write. It was wonderful to see this family figure out how they were going to live their lives."
Avery struggled herself with the degree to which she should analyze David Smith's illness. Should she talk to professionals and try to make a definitive diagnosis? Should she shorten other aspects of the book so she could treat the medical problem in a speculative way? She finally decided to describe Smith's character the best she could and leave the decision of what his illness might have been to modern clinicians. She has already heard from a variety of medically-trained people who have suggested Smith had hypoglycemia, bipolar disorder, schizophrenia or even a frontal lobe tumor.
"I finally decided David deserved to have his story told without a footnote that said his illness might have been alleviated with pills. I'm turning it loose now for the medical professionals."
While Avery was researching her book, Smith's grandson, Lynn Smith — then in his 80's — would occasionally call her and read an intriguing line from a letter in the family collection he was keeping. That way, she knew he had a valuable collection she needed to make the story complete. Lynn would not let her see the papers, but when he died, he donated them to the RLDS Church in Missouri, which granted her immediate access.
An intriguing aspect of Avery's study is that David Smith never knew his own father. But as he traveled to Utah and talked to many people who did know his father, Smith learned an enormous amount about him. And he started to understand various aspects of his own personality as they related to his father's.
Avery was impressed with the ways Smith tried to combine his interest in religion with that of science, and how he tried to explain scientific concepts in terms that the average RLDS Church member in Missouri and Iowa could understand. Avery believes that when David became institutionalized, the RLDS Church lost its most compelling spokesman. "They lost the one man most uniquely qualified to bridge the gap between their identity and the larger American public. He understood Mormonism, in the context of both churches, so he could have explained it to the larger American culture."
Avery also believes that Smith "combined the musical talent of his mother with the charismatic qualities of his father and came out with the very best of both those very strong people."
(During a visit to Salt Lake City this week, Avery will discuss her book and sign copies during the Sunstone Symposium at the Salt Palace, Friday, July 16, beginning at 12:45 p.m.)
read more