Samuel H. Smith honored by posterity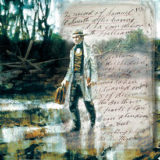 http://www.ldschurchnews.com/articles/51727/Samuel-H-Smith-honored-by-posterity.html
By R. Scott Lloyd
Church News staff writer
Published: Saturday, March 15, 2008
Observing the 200th anniversary of the birth of Samuel H. Smith, brother of the Prophet Joseph and the first formal missionary in this dispensation, his descendants and relatives listened to Elder M. Russell Ballard give this challenge:

Photo illustration by John Clark
Page from missionary journal of Samuel Smith is superimposed on William Whitaker's painting of him.




Photo by R. Scott Lloyd
Statue of Samuel H. Smith, replicating one at Provo Missionary Training Center, is displayed in Salt Lake Tabernacle during commemoration of his 200th birthday, at which Orem Institute Choir, in background, performs.


"March 13 is Samuel H. Smith's 200th birthday. Let us give to others the knowledge of the Restoration as an everlasting present of love and sincere appreciation for this first great missionary of this dispensation."
Elder Ballard of the Quorum of the Twelve spoke at the March 9 meeting in the Salt Lake Tabernacle along with Ardeth G. Kapp, former Young Women general president, who told of the impact Samuel Smith had on one of her ancestors, John Portineus Greene, an early convert to the Church.
The Orem Institute Choir, directed by Ryan K. Eggett with Linda Margetts accompanying on the Tabernacle Organ, presented several musical selections.
Elder Ballard began his talk by noting his own Smith family legacy; through his mother's line, he is a great-great-grandson of Hyrum Smith, brother of Joseph and Samuel. "So I'm here legally," he quipped.
Elder Ballard said, "The hand of God prepared the Smith family for their arrival in Palmyra," the New York area where Joseph received the First Vision.
The apostle reviewed the family history of the Smiths, telling of John Lathrop, a minister of the Church of England who died in Massachusetts in 1653. With 42 followers, he was arrested and imprisoned in England for teaching that the gospel should be taught more freely to common people and they should be able to read the Bible for themselves.
He also spoke of Robert Smith, who emigrated in 1638 at age 12 from England to the New World. One of his descendants was Asael Smith, who declared, "It has been borne in upon my soul that one of my descendants will promulgate a work to revolutionize the world of religious faith."
Joseph Smith Sr., son of Asael, married Lucy Mack, a descendant of Robert Lathrop, Elder Ballard related. He added that with their marriage, "God's hand wove together the believing blood of the Smiths and the believing blood of the Macks."
That believing blood flowed through Samuel's veins, he remarked, noting that in Harmony, Pa., in 1829, Samuel acted with Emma and others as a scribe as Joseph translated the Book of Mormon. "It was Samuel who brought Oliver Cowdery to Harmony. There Samuel learned first hand of the restoration of the Aaronic Priesthood and the ordinance of baptism. Joseph records that Samuel asked for his own testimony of the truth in prayer and received that witness. Samuel was baptized soon after, becoming the third person to be baptized in this dispensation. Samuel also had the blessing of being one of the eight witnesses to the Book of Mormon. Samuel was one of the six founding members of the Church and was ordained an elder at the first conference on June 9, 1830. All of these experiences were Samuel's because of his commitment and willingness to serve his Prophet-brother Joseph."
As the first formal missionary, Samuel traveled more than 4,000 miles between 1830 and 1833, Elder Ballard said. He noted that at the Missionary Training Center in Provo, Utah, there is a life-size statue of Samuel with a knapsack full of copies of the Book of Mormon.
"Since Samuel's first missionary service, the Church has called over 1 million missionaries to serve in 348 missions, now teaching the gospel in 176 nations and in 164 languages and dialects," he said. "What a wonderful beginning to spreading the message of the Restoration to the people of the world."
He asked those who had served missions to stand; most in the congregation stood in response.
Sister Kapp, whose maiden name is Greene, said John Portineus Greene was a Methodist minister who, in 1812, married Rhoda Young, sister of Brigham Young.
In 1830, she said, Samuel Smith brought a copy of the Book of Mormon to the Greene home in Bloomington, N.Y. Rhoda was there, but John was out preaching. Samuel had Rhoda read the promise in Moroni 10:4-5. She felt the truthfulness of it. One day, in desperation, John took the book from her, declaring he would show in the first two pages he came to that it was written under the influence of Satan. But the first page he came to contained the testimonies of the witnesses. He then went through it cover to cover before he laid it down and was converted by its power, Sister Kapp said.
John gave the book to Rhoda's brother, Phineas, who, in turn, gave it to Brigham Young. It eventually came to Heber C. Kimball. In short, Brigham and Phineas Young, Heber C. Kimball, and John P. Greene all were converted through that one Book of Mormon copy.
E-mail to: rscott@desnews.com