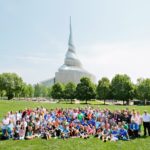 This gallery contains 3 photos.
By Steve & Frances Orton and Joy Ercanbrack
"Walking in their Shoes" was designated as the theme for the 2014 Joseph Smith Sr. and Lucy Mack Smith Family Reunion. The family gained a deeper respect for our ancestors who lived in the Independence, Missouri area as we toured Far West, Adam-ondi-Ahman, and the sacred Liberty Jail. We learned that God does not abandon us, just as he did not abandon Joseph and Hyrum when they were unjustly imprisoned in the Liberty Jail. Truth does prevail and the mercies of God will be revealed.
The full article is listed on the Reunion web site at http://reunion.josephsmithsr.org/?p=400 Continue reading →